MAVIC  COMETE TRACK TUBULAR REAR WHEEL
The track rear wheel with the most Olympic titles!
Since 1994, this rear track wheel is the wheel of choice of the best track racers in the world : Florient Rousseau, Chris Hoy, Théo Bos, Arnaud Tournant, Chris Hoy… The amazing results at the Beijing 2008 Olympics speaks for it: 17 gold medals. And there is no doubt that many more are coming!
Aerodynamics and weight are the key forces of this wheel. The lenticular flange boosts your spinning wheel, creating a negative drag under wind conditions. The HM carbon fibre flanges decrease weight and inertia and delivers a faster acceleration.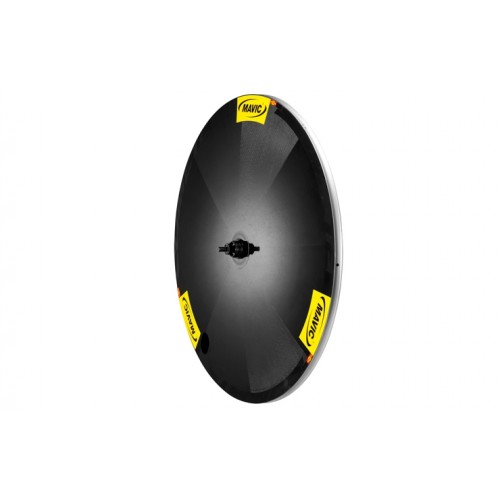 Specifications:
Save time thanks to exceptional aerodynamics
• Disc wheel with full carbon dishes
• Lenticular flanges
Superior rigidity delivers perfect power transmission
• Unidirectional and honeycomb weave carbon fiber
• Plain 15mm bolts for perfect retention in the frame
Excellent rolling efficiency
• High quality cartridge bearing (interchangeable): QRM
• Tubular only
Structure:
• 6106 aluminium rim body
• Symmetrical lenticular walls
• Unidirectional and honeycomb weave carbon fiber
• Asymmetrical walls: convex paracular (drive side) and lenticular (non drive side)
• Braking surface: UB Control
• Weight (ED10): 1150g
Hubs:
• Axle material: aluminium
• Axle size: 9,5×130
• Body: aluminium
• FTS-L, steel
• Fixed cog, 1.37 x 24 TPI thread
• QRM
Compatibility:
• ED11 or M10
• ETRTO size: 622x13C
• Recommended tire sizes: 19 to 28mm
• Tire: tubular